Write a novel in one month? Isn't that, like, impossible?
Well, it's a feat, no doubt about it. It's only going to happen if you're committed. And part of being committed is to have some sort of strategy. Here are my top six tips for a successful NaNoWriMo challenge! (Before we start, I have to admit that my working title for this article was "NaNoWriMo? NaNO problem!" Okay, back to the post!)

1. Find out how much it takes you to write about 2,000 words.
That's about how much you'll need to average every day to reach 50,000. It's technically 1,667 words, but I round up so that way I have a little breathing space. 2,000 words every day puts me at 25 days of writing which gives me those five extra days in case I need to be somewhere, in case I get sick, etc.
For me, it takes a little over an hour to write 2,000 words, so I know that if I do NaNo, I need to be able to commit an hour ever day. This could look like the same amount of time every day, or less time on the weekdays and more time on the weekends.
2. Find the best times to write.
Recently I've found it best to write 30 minutes in the morning and 30 minutes in the evening. I liked splitting it up, but others like to do it in one sitting. A few years ago, when I was more of a night owl, I'd write from 11 at night to 1 in the morning, all in one go. So it depends on what works for you and when you can make time.
3. Outlining.
Outlining helped me a lot. I'm a mix between an outliner and a pantser, but just having a general idea of what was going to happen from the beginning to the end, and when it all was going to happen, was super helpful. It also helps to outline to make sure you actually have enough content to hit 50,000 words. One year I finished the whole story at 50,123 words. It was a close call.
If you're a pantser, this might not be as useful to you, but I still think it would be good to have a specific end you're working towards. That way, you keep the momentum and have a clear goal.
4. Get excited about the project!
Daydream about it. Get to know the characters and world before you begin. I find that the more excited I am to write a certain, the easier the words come. It can't be just about the excitement, though, because you need to be willing to write through even when you feel stuck.
5. Eliminate distractions.
If there is something you can take a break from or put on hold, that might be a good idea. I often delete social media for parts of the month just so I have one less thing to steal my time. And be sure to grab some snacks and tea, if you're anything like me!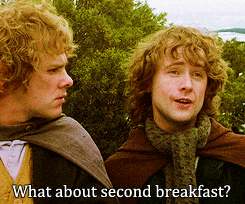 When you're trying to write but you get hungry
6. Know that your writing doesn't have to be perfect.
The goal is just to have something. You just need to write. Don't worry about editing, fixing it, or going back and changing anything. You just gotta write it. If you realize that something you wrote a few chapters back resulted in a current plot hole, make a note of it and plug away as though you've already gone back and fixed it.
And there you have it!
Now, while it may take 50,000 words to "win" NaNoWriMo, it doesn't mean that you "failed" the challenge if you didn't reach your goal. If you wrote anything, even the smallest amount, you accomplished something great, and I am so proud of you!